Support the OSU Research Forests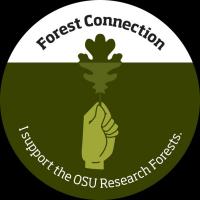 Your donation to the OSU Research Forests allows you to be part of enhancing the mission of the Recreation and Engagement Program: to support and promote an integrated community made up of residents, schools, organizations, the College of Forestry and OSU by offering a high quality local recreation destination and interactive opportunities to learn about forests.  
Your contribution to the Recreation and Engagement Program through the OSU Foundation will:
Create new recreation opportunities for all to enjoy.
Support community engagement and learning about the natural world.
Ensure recreation investments are cared for into the future.
Donate Here...
Make your donation through the OSU Foundation by clicking here...
When you get to the site, search for "Research Forest Recreation Fund"  
Provide the requested information to make your generous donation via credit card
Or write a check made payable to "OSU Foundation," including "4100-404100 - Research Forest Recreation Fund" in the memo line. Mail your check to:
OSU Foundation
4238 SW Research Way
Corvallis, OR 97333
Soon after signing up, you should receive a thank you email from us!
Commemorate...
Commemorate an Event or Remember a Loved One
Dedicate a tree in Peavy Arboretum
Sponsor dog bins and bags at popular trails
Donate a bench or picnic table
Install an artisan bike rack
Sponsor an interpretive sign
For information about commemorative benches, see our Commemorative Benches Flier.
Or contact us to discuss donation options.
Our Vision...
Our vision is to offer a variety of enjoyable opportunities for a diverse set of forest visitors to participate in close-to-home recreation and learning activities in a forested environment; a place where residents feel comfortable engaging in outdoor activities with their neighbors and friends, and come away learning something new about forests.
In order to achieve this, the Recreation and Engagement Program focuses on integrating the OSU Research Forests into the fabric of the local community, offering a diversity of high quality, safe, and sustainable recreation opportunities, and managing recreation to be consistent with OSU College of Forestry goals.