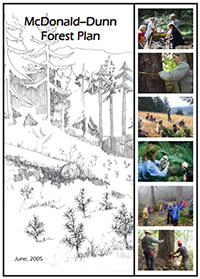 From 2004-2005, a faculty led committee came together to develop the plan with the help from public input. The plan was followed until 2009, until it became apparent that a new plan was needed in order to keep items included up to date and relevant. A new McDonald-Dunn Forest Plan is in progress.
The old Forest Plan centered around four important themes created by a faculty led staff:
Theme #1: Short Rotation Wood Production with High Return on Investment. Establishes and manages Douglas-fir plantations to become financially competitive with intensively managed plantations of pine and other species in the southeastern United States and elsewhere, maximizing yields of wood products valuable for domestic mills.
Theme #2: High-quality, Growth maximizing Timber Production. Emphasizes long rotations of even aged Douglas-fir dominated plantations, established, managed, and harvested on rotation cycles that optimize yield of high-quality wood, generally one to several decades longer than for Theme 1.
Theme #3: Visually Sensitive, Even-aged Forest. Seeks to create even-aged forests of primarily Douglas-fir using a two-storied, shelter wood system to maintain continuous tree cover with options for long-term retention of some shelter trees for non-wood forest values.
Theme #4: Structurally Diverse Complex Forest. Multi-aged, mixed-species forests of primarily Douglas-fir are established and managed using group-selection harvests, while maintaining structural diversity and associated habitats within stands.
The new Forest Plan will still keep these themes in mind; however, it will be more reflective on how the McDonald-Dunn Forests are managed today.
Furthermore, the new OSU Research Forests Management Plan will feature an overarching general plan for all nine of the Research Forests. The overarching "umbrella" plan will seek to explain why we have the various forests and how we want to use them for now and for the future. Once a common vision has been agreed upon by members of the Research Forests staff, members of the College of Forestry, and other community members, more specific tactical plans for each one of the forests will be created. This new Forest Plan is still in the survey stage for the common vision and goals portion, which is looking to be completed in approximately 6 months.
Forest plan documents (pdfs):